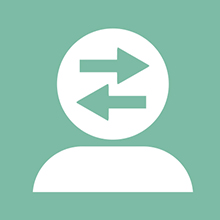 Group Pre-Paid Legal Services
Ultimate Advisor legal insurance from ARAG provides legal advice and solutions for most every day legal matters. This plan pays certain fees of a network attorney for covered legal services, such as standard wills, divorce, uncontested guardianship, consumer protection, property transfers/protection, name changes, elder law and much more.  Please review the ARAG Legal Plan Benefits Summary for more information.
If you choose to enroll, this plan will provide you with representation for many personal and legal services for you and your eligible dependents (eligible dependents are your legal spouse and dependent children under the age of 26).
Employees may visit the website at www.ARAGLegal.com/myinfo (enter access code 18027pi) to view information on covered legal expenses, Frequently Asked Questions and Network Attorney information.  Employees may speak to an ARAG customer care specialist toll-free at 800-247-4184, Monday through Friday, 7am to 7pm, Central time.
Pre-Paid Legal Premiums
Weekly
Semi-Monthly
$5.07


(2024 $5.05)

$11.00


(2024 $10.95)